Coming Up at Yogini Ashram
New Moon Maha Kali Yantra Puja and Fire Ceremony
Tuesday April 25th . 7:30 pm
Join us on the New Moon at Yogini Ashram to honor the divine feminine through mantra, flower offerings to Maha Kali, and a fire meditation. The new moon is known universally as a symbol of rebirth and re-awakening . This powerful NewMoon energy, which is under the direction of the primary Wisdom Goddess, Maha Kali is a most auspicious time to release old patterns and create new space for your divine purpose!
All sincere souls welcome.   
This is a by donation event.
Navagraha Puja – Sacred Geometry for the 9 Astrological Planets
Friday May 5th . 7:30 pm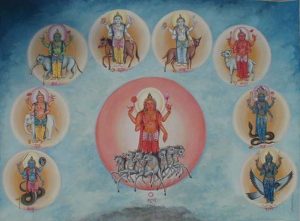 A Rare Opportunity for Ceremonial Worship of the Navagraha
Navagraha is Puja directed to the Divine which is manifested in the astrological energies that affect us.
Nava' means nine. 'Graha' means planets. When there is improper planetary alignment for an individual, it is called as a "dosha" or negative influence. Due to these "Navagraha Dashas" people fall into depression or low moods, health fails, family circumstances, trajectory of life goals, employment, and life itself can be negatively affected.
All sincere souls welcome.   
This is a by donation event.
Full Moon Gayatri Devi Yantra Puja
 Wednesday May 10th . 7:30 pm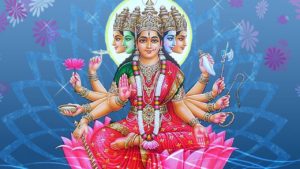 The full moon is known universally as a powerful and auspicious time for setting high intention and gaining clarity for the month ahead. Flowers will be offered to the Yantra of Sri Gayatri Devi. Yogis and wisdom seekers have connected with Gayatri Devi since ancient times as a means of access to deeper wisdom and Satya (ultimate truth).
Puja to Gayatri not only purifies and hones one's mental faculties, it also bolsters health, wellbeing and good fortune in all aspects of one's life.
All sincere souls welcome.   
This is a by donation event.<